Everyone loves a goldish. Not only are they beautiful and friendly pets, but they are also quite easy to take care of, compared to other species of fish.
As long as you give them a healthy environment and feed them with the best goldfish food, your fish will most likely have a long and fruitful life.
Even so, you need to carefully observe the behavior of your goldfish and take note of any evident changes.
Unlike dogs or cats, goldfish simply cannot signal that they are injured or badly reacting to any environmental changes.
And, one quite noticeable change that you might notice is their skin turning black.
Almost every month. I receive emails asking, "why is my goldfish turning black". And guess what? I am going to reveal some crucial nuggets of information that will come handy for every goldfish owner.
So, is the sudden color change something that you should worry about? Is it a sign of disease or illness? Let us find out!
Why is My Goldfish Turning Black?
Do you need to be worried about this shift? There are a few causes of this sudden color change in your finned pet.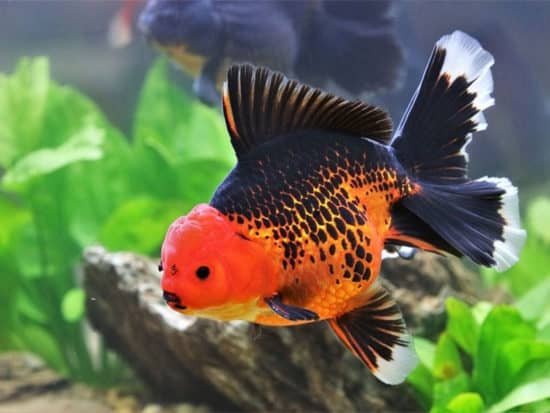 Although some color changes are natural and harmless, goldfish turning black may indicate a little trouble. As a matter of fact, you may have to make some changes in your aquarium, and see if you can help your finned pets.
If your goldfish is showing other unusual symptoms other than turning to black, you should get advice from a specialist or vet.
And, try to get it as soon as possible.
There's usually no need to panic and for drastic measures if you see your fish turning black. Here are the most common causes of this color change in goldfish.
Lack of Lighting
Is your room or hall well lit? Is your fish tank situated in a dark corner inside your home? You might want to move your aquarium to a place where it has more natural light exposure.
The thing is goldfish produce melanin, a dark pigment found in their skin. And, when your goldfish produces more of this dark pigment, it will likely appear darker, and even begin to turn black.
It is, however, a natural process due to the cells of melanin working. If your finned pets are exposed to a healthy amount of natural light, though, your goldfish are going to maintain their expected, natural colors.
Goldfish that are placed in a dark spot or those that do not have natural light exposure might produce some excess melanin.
Fortunately, this is an easy fix. You just have to reposition your aquarium to a spot where it gets natural light. Alternatively, you may open your blinds and curtains to let the natural light pass through.
If you cannot find a spot with a decent exposure of natural light, use the best aquarium LED lights.
Black or Dark Aquarium Decorations
Keeping your finned pet in an aquarium with dark decorations and a dark background might stimulate the melanin production in its fins or any body part. As a result, your fish will have some visible dark spots or patches all over its body.
High Levels of Ammonia
Black patches on your goldfish may be a sign that your aquarium is overdue for a water change. Plant debris, uneaten food, and fish waste create ammonia, which is a toxic and harmful chemical.
If you do not change your tank water frequently, ammonia will build up and ultimately burn the skin of your goldfish.
If you think your finned pet is suffering from ammonia burns, I suggest that you replace 20% of your aquarium water every 10 days.
Small Fish Tank Size
If you have a 20-gallon tank, and you have 5 goldfish, then it is likely that your pets are not getting enough space for swimming.
Black spots are an outward symptom that your pet is stressed from an unfavorable environment and living conditions, like a small fish tank.
Injured Goldfish
Goldfish, like most animals, also bleed. And, black spots may be a result of the blood collection from a hemorrhage that might be caused by a pointy decoration or object inside the aquarium.
Disease
It is possible, although rare, for a goldfish to turn black because of a disease. There is a parasite type that can infest aquariums.
And, these parasites typically hitch a ride with the seemingly harmless snails.
So, if your tank contains snails, and your goldfish is turning black, your pet might have some parasites under its skin.
Once the parasite enters the skin of the fish, it will start laying eggs there. Then, it creates a hard and black cyst, making your pet's fins look dark.
To make things return to normal, just remove the snails from your aquarium. While it takes around a month or two to take full effect, it nonetheless works.
If the problem seems pretty severe, use a treatment that removes these aquatic parasites. It is going to cost you a extra few bucks, but it fixes the problem a whole lot faster and easier.
Ineffective Filter
Every fish owner knows that goldfish produce a great deal of bioload. Of course, having an inefficient filter means a massive ammonia buildup in your aquarium, which might be the primary cause of black spots on your goldfish.
Natural Color Change
Goldish may amazingly develop some black spots on their skin as part of their regular development in color. As it turns out, colors for goldfish are not just limited to shades of red and gold.
Some have red as well as black and silver colors.
There are even goldfish with single tones as well as patterned in different colors.
A Panda moor goldfish begins to develop some black spots on its white body as it starts to mature.
Additionally, some mixed breed goldfish tend to change color in their first year. And, they might continue to shift colors throughout their lives.
By the way, stability in color is not guaranteed even for an expensive and pure breed goldfish.
How To Treat Your Goldfish With Black Spots
Think your pet's black spotting is not part of its natural growth process? You might want to check out these solutions and tips.
Change the Tank Water Routinely
Regular aquarium water changes help remove uneaten food, organic waste products, and debris in your fish tank.
Not only will it make your fish tank look clearer, but it will also remove the ammonia buildup in your tank.
To prevent these black spots, always make sure that you have the ideal water quality for your fish.
That means that you have to monitor your tank's ammonia, pH, and temperature levels every day.
For the best result, target an ammonia level of 0 ppm.
Invest in a More Effective Filter
If you think your filter is not pretty effective, look for a better one that can get the job done. There are plenty of canister filters that can help you maintain a healthy and thriving ecosystem for your goldfish.
Remove Some of the Sharp Decorations
Goldfish are naturally playful. That is why you need to remove any pointy objects and decorations that might harm your adorable and active finned pet.
Get Rid of the Snails Inside Your Aquarium 
Do not let these creatures fool you! Sure, these slow-moving herbivores look cute and harmless, but they can be a headache and nuisance for goldfish owners.
After all, snails carry a host of parasites and multiply at a rather ridiculous rate. Luckily, you can easily remove them manually or by using safe-for-fish chemicals, such as copper sulfate.
Get a Bigger Tank
For your goldfish to survive and thrive, you need to give them a ton of space to swim and roam around.
A larger 50-gallon aquarium is ideal for a group of 5 goldfish. With this aquarium size, you are allowing your goldfish to freely swim. Even better, it reduces toxic waste accumulation produced by your finned buddies.
If you have already tried all these remedies, and the symptom still persists, perhaps it is time to contact a goldfish specialist or veterinarian.
Check out this fantastic YT video:
How do I Know if My Fish is Dying
No one wants to see a dead goldfish, especially if you are a pet owner. For the most part, goldfish death is caused by these things:
Parasites such anchor worms and fish lice
Fungal diseases
Internal parasites
Bacterial infections
Ammonia burns
Diseases like a swim bladder disease
Unhealthy tank conditions that lead to low oxygen levels
Symptoms of Parasite Infection
The dullness of your pet
Loss of weight
Scratches against the aquarium's had surfaces
Constant flicking
Symptoms of Ammonia Poisoning
Color dullness
Rapid breathing
Unusual red gills
Low Oxygen Level Signs
Swimming with their mouths wide open
Swim frequently towards the aquarium's bottom
Breathing rapidly
Fungal Infection Symptoms
Fins are clamped
Fins are rotting
Swim Bladder Disease Symptoms
Goldfish is swimming on the side
Floats upside down
If ever your goldfish starts to show any of these symptoms, quarantine it immediately. That way, you are preventing the spread of the disease (if it is transmittable) across your aquarium.
And, do not forget to treat it and monitor your fish regularly.
If symptoms still persist, take your fish to a veterinarian or a specialist who can diagnose and appropriately treat your pet.
You will love tips shared in this video:
FAQs
Will all those block spots go away?
Do not worry. Black spots on your goldfish are not permanent. All you have to do is to get rid of the pests, treat the disease or remove the ammonia, and let the injury heal.
If, however, you do not fix the problem, it can lead to a more severe problem or even kill your fish.
How can I enhance the colors and vibrance of my goldfish?
Easy! You just have to feed them with color-enhancing goldfish food. Look for the best goldfish food with fatty acids and essentials. Furthermore, pick a goldfish food that is rich in vitamins to increase your goldfish's colors.
And, do not forget to keep your aquarium spotlessly clean and healthy. Replace the water regularly and test the crucial water parameters like pH daily.
Why do they lose their color?
Goldfish change their color naturally over time. As these fish age, they usually lose a ton of their black colors and might turn into grey.
And, as I have mentioned above, they also lose their vibrant color when their environment lacks exposure to light.
What causes high levels of ammonia?
High ammonia levels are caused by decaying unconsumed food, fish waste, and decaying aquatic plant matter.
That means high ammonia levels in your aquarium are caused by improper care of your fish tank.
You need to remove all the tank's debris and clean it regularly.
Of course, having a potent biological filter is a bonus as well. Biological filters efficiently take care of your tank's high ammonia levels.
Does a fishball make a comfortable home for my goldfish?
A fishbowl may be a decent and blissful home for animated or cartoon goldfish. But, it is literally a death sentence for a real-life fish.
You need a fish tank with a capacity of at least 10 gallons to make your goldfish happy. And, you also have to ensure that it meets the specific requirements of your goldfish.
Keeping a small goldfish in a bowl can lead to a variety of deformities and health problems, like a bent spine. And, did I mention that it can cause some black spots on your goldfish's fins?
How to Prevent Goldfish Disease
Prevention is always better than cure. Preventing a goldfish disease is a better and more useful measure than to visit a fish specialist or veterinarian.
Here are some of the ways to prevent any goldfish illness.
A healthy and flourishing fish tank has the right pH levels, nitrate level, and temperature.
Avoid overcrowding.
Buy a top-quality filtration system
Quarantine any sick fish.
Do not overfeed your fish. Less is better, in this case. Unlike other pets, fish do not stop eating whenever there is food. This can cause digestive problems to your fish and increase their waste, eventually spiking up the tank's ammonia levels.
Got something that you like to share with us? Feel free to share your thoughts using the comment section!