Congratulations! You have finally ventured into the world of fish keeping. You have finished setting up your aquarium, embellished it with plants and ornaments, and filled with water that is safe to swim for the fish.
So, the next and most obvious step should be adding your finned pets to your newly set up fish tank, right?
Wait! Just stop right there!
If you put them in your aquarium right now, your fish will soon die.
No kidding!
Before adding any finned creature to your fish tank, there is one more crucial thing you have to do: you have to cycle your aquarium.
For most beginners, cycling an aquarium is, hands down, one of the most baffling parts of maintaining a fish tank.
As a matter of fact, cycling an aquarium is perhaps something that you have might have never heard of.
Unless you have been paying a lot of attention to fishkeeping forums and Facebook groups, it is likely a foreign term for you.
But, fear not! I am going to make things easy and convenient on your end, with this guide.
What Exactly is Aquarium Cycling?
Ever seen an aquatic creature living and flourishing in the wild with crystal clear, contaminant-free water? I guess not.
That is because the life of a fish is not sterile. The truth is, fish life does not flourish in pristine and immaculately clean conditions.
Instead, it thrives where there is a whole aquatic ecosystem of animals, plants, and microorganisms that are in perfect balance with each other.
So, if you are planning to set up a new aquarium, you will have to learn more about the aquarium cycle or also known as "Nitrogen Cycle".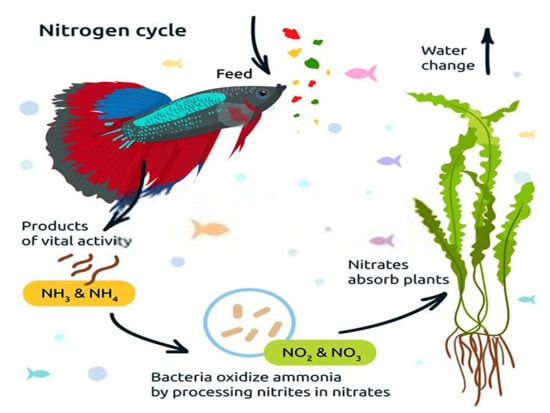 In some cases, this process is called New Tank Syndrome, Nitrification Process, or Biological Cycle.
Nitrogen cycle is, in essence, Mother Nature's way of recycling the natural nutrients.
In nature, plants and bacteria convert and absorb nitrogen compounds from their surroundings. Then, animals consume these bacteria and plants. Afterward, bacteria and plants consume the waste of animals as their food.
The same cycle also happens in a fish tank setting.
You feed your finned pets, and they produce waste, which is also called ammonia.
Soon, the plants and bacteria absorb the fish waste, making the aquarium water safer for your pets to live in.
But what happens to a brand-new aquarium with newly added decorations, gravel, and tap water? Where can you find beneficial bacteria and aquatic plants that help break down the waste of your fish?
That is why you need to perform a Nitrogen Cycle – a process that ensures your aquarium's ecosystem processes ammonia without harming any aquatic life.
Here is a detailed video tutorial about Nitrogen Cycles:
How Long will the Aquarium Cycle Process Take?
There is actually no specific answer to this question. For the most part, it can take anywhere from a couple of weeks to 8 weeks.
To simply put it, the process is done when it is done. That is probably the best answer to this question.
The best and only way to know it is finished is to monitor the aquarium cycle every 2 days. So, you need to buy an aquarium test kit or a few more to monitor the water's levels of pH, nitrates, nitrites, and ammonia.
Levels of ammonia spike during this aquarium cycle process. Soon, it will drop once nitrite begins to take hold.
Nitrate does not appear until your aquarium has significant nitrite levels. As soon as it hits the ideal and appropriate levels, nitrite drops, and nitrate forms.
When your aquarium's nitrite level is zero, you may slowly and gently add fish to your tank.
The Aquarium Cycling Processes
Okay, enough science talk for now! Let us get into the action, so you can start the long process of nitrogen cycling.
There are three ways to cycle an aquarium: cycling with plants, cycling with fish and fishless cycling.
Of course, I will unveil these methods to help you find the best cycling solution for your aquarium.
How to Cycle an Aquarium with Fish
Truthfully, I am not a big fan of this cycling process. While it is quite effective, it increases the odds of having stressed fish.
After all, this process involves exposing your aquatic buddies to nitrites and ammonia during the cycling process.
As a matter of fact, some fish may not make it through.
But, some species of fish can handle it a lot better than the rest. And, if you have made the mistake of purchasing your fish and tank on the same day, cycling with fish may be your best and only choice.
Step 1: Introduce a Few Hardy Fish
Your goal is to populate your aquarium with fish that will not only produce waste but can survive high ammonia levels as well.
Furthermore, these fish should live long enough to let the aquarium's beneficial bacteria grow and flourish.
Ideally, you should have around 1 or 2 fish for every 10 gallons of aquarium water. Introducing too many of them will ultimately lead to excess fish waste.
This, in turn, causes a spike in ammonia levels and may even kill your pets.
Here are some excellent choices if you are planning to cycle an aquarium with fish:
Pseudotropheus Zebra
X-ray tetras
Pupfish
Zebra Danios
Most Minnows
White Clouds
Banded Gouramis
Tiger or cherry barbs
Step: 2: Fish Feeding
You should feed them sparingly, and be extra careful not to overfeed your fish. As a general rule of thumb, fish should be fed once every couple of days.
Additionally, you should only give your fish moderately-sized meals.
Keep in mind that fish release more waste when they eat more. And that will increase your aquarium's toxin levels before the beneficial bacteria can colonize your tank.
Also, overfeeding them leads to a ton of leftovers, which may produce more toxins inside your tank.
Step 3: Change Water
Since your fish are exposed to conceivably lethal volumes of nitrate and ammonia, it is essential to change the tank's water regularly.
With regular water changes, you are ensuring that the levels of toxin do not get extremely high.
Try to change 10 to 25 percent of the aquarium's water every 2 to 3 days. If you replace water more than what I recommend, you might be removing the nitrite and ammonia that the good bacteria in your tank need to feed on.
And, do not forget to treat tap water with water conditioners before pouring it to your aquarium.
As I have said before, tap water contains chloramines and chlorine, which will kill the beneficial bacteria, and eventually ruin the aquarium cycle process.
Step 4: Test the Tank's Toxin Levels
Tons of premium quality test kits let you efficiently and conveniently monitor your level's nitrite and ammonia levels.
Even though it is not crucial to test the tank's ammonia levels, it is still a highly toxic substance.
Nitrate tests, meanwhile, are highly essential.
Take note that it is the only way to know that the aquarium cycling process is over.
And, you will know the process is over when the nitrate level is zero.
Step 5: Add More Finned Pets
With the cycling process over, you may begin adding more of your finned pets to your aquarium.
But, I recommend that you do it gradually and only introduce two of them at a time. Every time you have added fish, wait for around 6 days and test the aquarium water once again.
Then, add more fish if the levels of nitrite and ammonia are low.
It is crucial to slowly add them to your aquarium. Adding too many of them might skyrocket the aquarium's nitrite and ammonia levels.
And, we all know what happens next when levels of these substances rise.
How to Cycle an Aquarium Without Fish
The fishless aquarium cycle has become pretty popular lately, thanks to its humane and convenient procedure.
There are tons of other ways to cycle an aquarium without a fish. But, for this post, I am going to share the simplest and most convenient one.
Step 1: Add Ammonia to Your Fish Tank
Start the process by dropping some fish food flakes into your aquarium. Just add the same quantity of fish food as you would when you are feeding your aquatic pets.
And repeat this process every 12 hours.
Afterward, wait and let the flakes of fish food decay and release ammonia to your aquarium.
Step 2: Ammonia Testing
With a testing kit, test the levels of ammonia of your aquarium every other day. The ammonia level should be at least 3 parts per million (ppm).
If you have yet to hit the target ammonia level, keep adding more fish food flakes and allow them to decay.
Test every 2 days, and try to maintain an ammonia level of 3 ppm.
Every time the ammonia level drops below the target, replenish it by simply adding more fish food flakes.
Repeat this process for a week.
This video will teach you how to test ammonia levels:
Step 3: Nitrite Test
After a week of growing and testing ammonia, you should start testing for the aquarium's nitrites content.
Of course, you need to use a commercial testing kit to do this.
And, the real cycle begins once you discover nitrates in your aquarium.
Keep increasing the ammonia level, just like you did earlier.
Step 4: Nitrate Test
When the levels of nitrite begin to drop (after weeks of nitrite and ammonia testing), it is time to test the aquarium's nitrates.
And, when that happens, you can chill a bit because the aquarium cycle is almost done.
The cycle will be officially complete once the levels of nitrite and ammonia turned to zero. If, however, the reading for nitrate is 40 or above, you will have to alter the water chemistry to lower this reading down.
Step 5: Put Your Fish in Your Aquarium
Once again, do not just go add tons of fish into your aquarium. Do it slowly and gradually. Like I have said above, do not add dozens of fish at once.
Wait for around a couple of weeks before you add more fish to your aquarium.
Also, you might want to clean your tank's substrate with a hose or siphon before you add any fish to your tank setup.
There is a possibility that decaying fish food might be trapped there.
Aquarium Cycling with Aquatic Plants
You will love this aquarium cycling method. Trust me, this option will transform an ordinary fish tank into a visually and biologically a natural ecosystem.
And, you do not have to set up a tank with fish with this method.
You just have to immediately introduce live aquatic plants to your aquarium. Then, you focus on growing these plants with fertilizers, substrate, and lighting.
As mentioned by Diana Walstad (a microbiologist), aquatic and aquarium plants effectively consume more nitrogen than bacteria.
Once the algae or plants show some new growth, the aquarium cycle is undoubtedly complete.
You are plants are effectively and successfully consuming nitrates and ammonia, and converting them into new roots and leaves.
After that, add a few fish gradually and sparingly feed them.
And use water test kits to make sure that levels nitrites and ammonia are at 0 parts per million. Also, make sure that the nitrate level is below 40 parts per million.
Is there a Way to Increase the Aquarium Cycling Speed?
Yes, there are plenty of ways to speed up the process. They might not be drastic, but at least they can make the whole process a bit faster.
Here are some proven techniques to speed up the nitrogen cycle.
Add gravel or substrate from an established aquarium
Use filter media from an established aquarium
Add live plants (it is best to get them from an established aquarium for faster results)
Filter media and gravel from established aquariums contain nitrifying bacteria. So, you do not have to wait for a ton of time for the bacteria to grow naturally, meaning your nitrogen cycle will be faster.
There is no magic pill and instant solution to nitrogen cycling.
It is an essential fish keeping process that requires a great deal of time, patience, and effort on your end. But, the results of your hard work are absolutely worth it.
As you prepare a welcoming and healthy ecosystem for your fish, you are significantly minimizing the loss of fish life. Plus, it makes your fish tank maintenance routine a whole lot easier and simpler.