Taking a vacation and wondering how long can goldfish go without food? Well, guess what? You have come to the right place!
Not only will I give you the best answer, but I will also be revealing some solutions on how you can feed your goldfish while on vacation.
Even better, this guide contains nuggets of information that will make fishkeeping a breeze and painless on your end.
How Long Can Goldfish Go Without Food?
Goldfish, contrary to popular belief, can survive for a long time without being fed. In 2011, two goldfish in Christchurch, New Zealand, named Daphne and Shaggy, survived for 134 days (4 months and a half) without being fed.
In general, goldfish can survive for as long as 2 weeks without consuming food. But, just because they can survive for long periods, it does not mean you should not feed them for over a week.
After 2 weeks without being fed, your goldfish will become extremely hungry and malnourished.
Yes, it is okay to leave your finned pet without being fed for 3 or 4 days. But, you should look for alternatives and make some other arrangements if you will be away for days.
So, how did Shaggy and Daphne survive without their typical fish food for months? As experts suggest, these goldfish survive by eating the algae that grew on the walls and rocks of their 26-gallon aquarium.
Furthermore, the tank's growing bacteria could have helped keep the aquarium water clean to sustain fish life.
How Often Should I Feed My Goldfish?
Goldfish are insatiable and big-time eaters. Unlike other pets, these fish do not stop eating, as long as they can spot food.
As a matter of fact, some goldfish get sick or even die because they eat voraciously and endlessly.
That's why we suggest that you give them a few small meals per day, rather than just one big meal.
In a perfect world, you should be feeding your goldfish around 3 to 4 times per day. Most goldfish owners, however, have family and work commitments, meaning it is pretty common to feed a goldfish twice per day.
Like most pet owners, I also have a rather busy schedule, so I feed my goldfish once at night and of course once in the morning.
To prevent overfeeding, you should feed them no more than what your pets may consume in a couple of minutes.
Check out this fantastic and informative video:
What do Goldfish Eat?
Goldfish will literally eat nothing. But, not everything they consume can be beneficial to them.
So, as a goldfish owner, it is crucial for you to find the best goldfish food for your pet. Also, the closer you mimic their natural diet in the wild, the healthier your fish will be.
Carps are, in essence, the goldfish's ancestors in the wild. And, you can learn quite a great deal about your pet's ideal nutritional needs by determining the carp's natural diet.
In the wild, a goldfish will likely eat these stuff the whole day in a pond or river:
Little fish
Worms
Insects
Decaying plant matters
Plants
Algae
Vegetable matter, as you might have noticed, makes up a vast portion of the goldfish's diet. But, they also consume some protein that can be found in marine-based animals and insects.
And, thankfully, there are a number of fantastic options available for every goldfish owner.
Generally, the options for goldfish food can be summarized into 3 categories.
The staple diet: Flakes, Gel food, and Pellets are complete options that provide your goldfish with all the nutrition they need. Plus, it has the perfect ratios of minerals, vitamins, carbs, fat, and protein.
Foraging material: Leafy greens and other types of vegetables are excellent foraging food that can make your fish healthier and happier.
Treats: Variety is, as they say, is the spice of life. And, it is ideal to spice things up by giving them a nutritious treat around 2 to 3 times per week. Treats like dried or live food are not just tasty for fish, but they also have color-enhancing properties and are loaded with vitamins.
You will love the tips shared in this video:
When You can Skip Feeding Your Pet?
People mostly cannot feed their fish when they are out of town for a business trip, away visiting relatives, or on vacation.
But, there are a few other legit reasons why you might need to withhold their food temporarily.
If your fish tank is having issues with its water quality, I suggest that you withhold your pet's food for 2 days to minimize the amount of waste in your aquarium.
Obviously, withholding goldfish food is not a long-term solution. That is why you must figure out the root cause of the problem, and find the right remedy to it (like smaller meals or a better filtration system).
Even so, it can quickly clear up the aquarium water temporarily, which prevents your goldfish from getting sick.
It is wise to temporarily withhold food if your goldfish has a swim bladder problem caused by a digestive tract blockage.
If your fish is dealing with this issue, fasting them for around 3 days will do the trick since it gets rid of the buoyancy problems related to the issue.
How to Feed Your Goldfish When You are on Vacation
If you are going away for 3 days or on a weekend, then there is no need to make any arrangements to feed your pet.
But, if you will be away for over a couple of weeks, you should consider heeding these tips and suggestions.
Ask a Neighbor or Friend to Feed Your Pet
The simplest and easiest way to feed your fish, when you are away, is to ask your friend or neighbor to do it.
Just make sure that the person who will be handling this assignment knows the ideal quantity of fish food to feed to your goldfish.
Buy an Automatic Fish Feeder
If you cannot find anyone trustworthy who can feed your pet, then you should invest in an automatic fish feeder.
With an automatic fish feeder, you will just have to put your pet's food on the feeder and set its timer. Afterward, the feeder will dispense the fish food to your aquarium automatically.
There are automatic feeders like Eheim that can feed your goldfish around 4 times per day. Additionally, some automatic fish food feeders can hold and dispense fish food for 6 weeks, making them a perfect solution for those who are going on an extended vacation.
Here are the automatic fish feeders that I recommend.
Hydor fish feeder automatic
BettaMatic from Zoo Med
Sera A Plus feed
Lifegard Intelli-Feed aquatics
F14 Fish Mate
Eheim Fish Feeder Everyday
Slow-Releasing Food For Fish
Using slow-release food for your fish is not just a cheap option, but is rather effective as well.
Slow-release food for fish is available in a couple of categories:
Vacation fish food feeder blocks: This option will feed your goldfish for up to 2 weeks. If you are planning to take a 14-day break, you should consider the vacation fish food feeders.
Weekend fish food feeder blocks: If you are going for just a weekend break, you might want to buy these feeder blocks. This excellent food for fish will keep your goldfish fed for up to 3 days.
Here is a simple and short table of some of the top slow-release fish food products available on the market today.
| | | |
| --- | --- | --- |
| Fish food feeder brand | Suitable for | Lasts for |
| API Fish automatic feeder | Goldfish and all kinds of fish | 3 days |
| Zoo Med Banquet Blocks | Betta | 7 days |
| Zoo Med Plankton Mini | Small fry and gourami | 7 days |
| Zoo Med giant block feeder | Bottom feeder | 14 days |
| Tetra slow release fish food feeder | Goldfish and tropical fish | 14 days |
| TetraPond Vacation feeder block | Goldfish and pond fish | 14 days |
More Goldfish Feeding Tips
Test your automatic fish food feeder at least 3 days before leaving. That way, you can make adjustments or seek help from the manufacturer if there is something wrong with the feeder.
Set up a neat station for the fish caretaker, so that they can easily spot the crucial items.
Track the eating and feeding habits of your pets. Whoever is feeding your pet should record how much and when they are feeding your fish. If you see a problem and think it has something to do with their food, the record will practically help you diagnose and find the right solution.
Other Goldfish Maintenance Tips
Want to become a better goldfish owner? Make sure to heed these handy and valuable tips.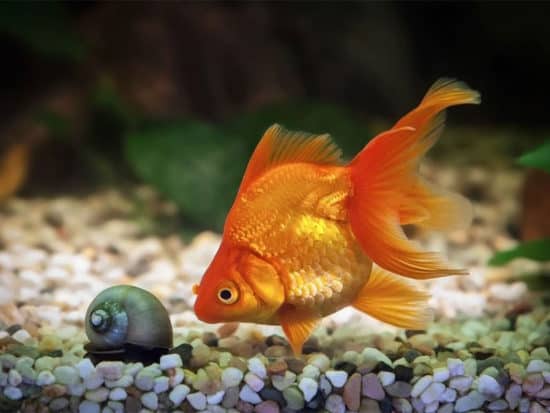 Create a Healthy and Thriving Environment
Before you buy a goldfish, you need to spend a great deal of time and effort in setting up its aquatic environment. Also, put it in a place where your fish can get some exposure to natural light.
The tank should have the ideal parameters and levels for pH and temperature. And, do not forget to remove or neutralize the ammonia, nitrites, and nitrates in your aquarium.
Keep the Aquarium Spotless and Clean
Goldfish are rather messy and playful. That is why you need to clean your aquarium regularly and perform partial water changes every week.
Furthermore, invest in a premium quality filtration system to maintain a healthy and clean aquatic environment for your goldfish.
Keep Your Goldfish Safe
Do not spray any insect repellent in the place or room where your aquarium is located, as it may poison your pet. And, do not use metal decorations in your fish tank.
Take note that metals dissolve and may poison your beloved pets.
Objects from ponds and beaches carry bacteria that may have a variety of diseases, so be extra careful of these things.
You might want to avoid sudden loud sounds and tapping on the aquarium glass since it might stress out your goldfish.
Know the Signs When Your Fish is ill
Pay a little attention to your goldfish. Likewise, become familiar with your goldfish's normal behavior because it will make it easier to notice if there is something wrong.
Some of the common signs that your goldfish might be ill include swimming abnormally, gasping at the water surface, continually scratching against the tank decorations, and a shaky body.
Understand The Common Fish Ailments
The most common goldfish ailments are lice, popeye, anchor worm, fin rot, fungus, and constipation. Fortunately, you can quickly treat it with medicines from a local pet store.
For severe problems, contact a veterinarian or a goldfish expert.
FAQs
What can my goldfish eat besides fish food?
There are plenty of other nutritious and superb food sources that goldfish can eat. As a matter of fact, they can even eat human food.
They eat vegetables, such as:
Cucumber
Broccoli
Peas
Kale
Spinach
Cucumber
Carrots
As for fruits, these are the suitable options:
Banana
Watermelon
Orange
Grapes
Apple
Also, goldfish may consume cooked rice.
Can I feed bread to my fish?
A lot of people think bread is a perfect food source for fish. But, in reality, it can be harmful to your fish.
Even if you run out of fish food, you should, by no means, feed them with bread. Unlike regular fish food, bread swells up inside the intestines of your fish, which can lead to constipation or, worse, death.
Flakes or pellets? Which is better for my pet fish?
Goldfish, in their natural habitat, eat their food from middle or lower levels of water. As you feed goldfish food pellets to your pet, it will slowly sink into the aquarium, allowing your goldfish to eat them like they do in the wild.
On the low side, pellets tend to rot quickly. And, this can ultimately increase your aquarium's ammonia levels.
Flakes, on the other hand, can reduce ammonia problems because they float, and you can easily remove them from the water surface.
How do I know if my goldfish is hungry?
Some signs will let you know if your goldfish is hungry, including:
Sudden behavioral changes, such as aggression
Swimming to the water surface and waiting to be fed
Digging around the aquarium substrate
Sluggish and slow behavior
Is there something that you would want to share with us? Want to add something? Feel free to share your thoughts using the comment section!