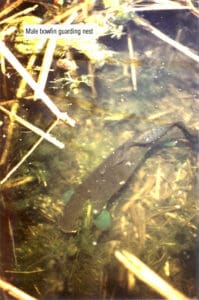 Nest association, the spawning of one species of fish (an associate) in a nest guarded by one or more breeding males of another species of fish (the host), is widespread among North American fishes. Small minnows are the most common associates (Johnston and Page, 1992), but larger fishes, such as gars, also are known to spawn in nests of other fishes (Goff, 1984). This paper describes the use of nests of bowfin, Amia calva, by spawning golden shiners, Notemigonus crysoleucas. All measurements are total lengths; average and maximum lengths are from Page and Burr (1991).
A nest of a bowfin was observed near the shore of a heavily vegetated pond in Buffalo County, Wisconsin, on 11 May 1994. The circular nest, about 48 cm in diameter and located in water about 20 cm deep, had been constructed on flooded terrestrial grasses. Shoots of grasses had been shorn off to construct the nest, and the bottom of the nest consisted of mud and roots. Tall grasses surrounded the nest except for a short area of the perimeter which was open water.
A male bowfin (approximately 40 cm) was guarding the nest, and a school of 25-30 golden shiners (averaging about 5 cm) was swimming over the nest. The golden shiners usually stayed about 2-3 cm inside the perimeter of the nest, swam in a tight school, and appeared to avoid the head of the bowfin. Eggs spawned by several groups of golden shiners fell onto the bottom of the nest during the observation period.
When startled by the human observer, the bowfin swam quickly from the nest to deeper water and, in doing so, frightened away the golden shiners. With the nest void of fishes, 17 bowfin eggs and 36 golden shiner eggs were collected from a 6 × 6 cm area of the nest with a dipnet. Eggs of the bowfin were about 2 mm in diameter and black; those of the golden shiners were about 1 mm in diameter and transparent yellow.
Bowfin eggs were preserved (INHS 37439), and the yellow eggs were kept alive to rear in an aquarium and confirm their identification as those of golden shiners. The eggs, kept at 17 C, hatched on 15-17 May. Two larvae that grew to 14.4 and 22.8 mm were identifiable as golden shiners and preserved (INHS 38833).
On 16 May 1994, a second visit was made to the nest. Bowfin fry were observed on the bottom of the nest and they periodically rose to the surface to gulp air. Dozens of minnow fry, presumably golden shiners, were swimming over the nest at the surface of the water. A male bowfin was positioned over the nest and appeared prepared to protect the fry from predators.
On 13 May 1996, another bowfin nest containing bowfin and minnow eggs was found in a pond a short distance from the pond where observations were made in 1994. A few dozen bowfin eggs and several hundred minnow eggs were in the nest. The pond has been seined five times in the past 10 years, and the only minnows in the pond are Cyprinus carpio, which has large eggs and is unlikely to spawn in an area as small as a bowfin nest, Pimephales promelas, which attaches its eggs to the undersides of rocks and logs, and the golden shiner. The eggs in the nest were almost certainly those of golden shiners.
At least 35 species of small North American minnows are known to spawn over the nests of other larger-bodied fishes, usually other minnows (Johnston and Page, 1992; Johnston and Kleiner, 1994). Most associations are thought to be mutually beneficial to associate and host (Johnston, 1994a, 1994b). Associates benefit because they gain the physical advantages of the nest (e.g., clean gravel in which to hide eggs) without having to expend energy to construct a nest, their eggs are protected by another species, and their eggs are in an area of high egg density where the risk of being eaten is reduced. The host presumably benefits from the association because its eggs also are less likely to be eaten in an area of high egg density. The selective advantage to the guarding male is sufficiently great to allow, or even encourage, spawning by other species (Johnston, 1994a).
Although most associates appear to have a mutualistic relationship with their hosts (Carr, 1942; Vives, 1988;Johnston, 1994b), parasitic relationships are known; for example, the minnow, Notropis cummingsae, feeds on eggs of Lepomis auritus, its sunfish host (Fletcher, 1993). Additional investigation is needed to understand how this system is maintained.
Nest-building males of Nocomis, Semotilus, Exoglossum, and Campostoma are larger (15-51 cm) than associate species (most are 7-9 cm) but are rarely large enough to ingest them (or to ingest many of them in a short period of time). Many species of sunfishes also are too small to ingest adult minnows that spawn on their nests; for example, two common hosts, Lepomis megalotis and L. auritus, reach only 24 cm. However, at least three minnows, N. crysoleucas, Luxilus cornutus, and Notropis maculatus, spawn over nests of bass, genus Micropterus (Johnston and Page, 1992); species of Micropterus reach large sizes (M. dolomieu and M. salmoides reach 69 and 97 cm, respectively) and could easily drive off or eat adult minnows that move onto their nests to spawn. Kramer and Smith (1960) noted that guarding male largemouth bass (M. salmoides) sometimes tolerate golden shiners spawning in their nests and sometimes chase them away.
Golden shiners are known to reach 30 cm, but most breeding individuals range from 5-15 cm (Cooper, 1936; Forney, 1957). Bowfin reach 109 cm, and breeding individuals are commonly 38-60 cm (Scott and Crossman, 1973; Trautman, 1981), making them much larger on average than the golden shiners spawning over their nests. The discovery that the golden shiner spawns over nests of the bowfin, a large piscivore that frequently feeds on minnows and other small fishes (Pearse, 1918; Forbes and Richardson, 1920; Stacy et al., 1970), further emphasizes the extraordinary relationship that can develop between predator and prey during the spawning season.