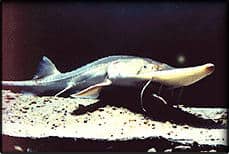 The Missouri River in North Dakota contains some distinctive fishes found few other places. Many of these fish have specialized adaptations for living on or near the bottom and feeding in turbid waters.
Barbels or whiskers that help these fish detect and taste food grace the heads of catfish, sturgeon, and other benthic (bottom-living) species. Special taste buds cover the head, bodies and fins of several species. Sturgeons, channel catfish, sicklefin chubs and sturgeon chubs have small eyes, relying less on sight and more on taste for feeding than do many other species inhabiting clearer waters.
These special adaptations may seem strange to us because we rely so heavily on sight for feeding, but to a Missouri River fish they only make good sense.
As long as the river remained naturally free-flowing and turbid, many native species prospered.
In the 20th century, however, many Missouri River benthic fish have declined in abundance, especially down-river of North Dakota where little natural free-flowing river remains. Channelization – the straightening of streams and rivers – has aided commercial navigation but reduced fish habitats such as backwaters and secondary side channels. Mid-river islands, which formerly blocked the current and created a variety of main channel habitats, have been eliminated in channelized potions.
The construction of six mainstem dams since the 1930s from Fort Peck Dam in Montana to Gavins Point Dam on the South Dakota-Nebraska border, has blocked fish migrations, trapped naturally high sediment loads in the reservoirs' headwaters, changed the river's flow and temperature regime below the dams and caused significant daily fluctuations due to hydro-peaking. These new Missouri River conditions often favor non-native, sight-feeding species more suited to reservoir habitat over native species that detect food by smell or taste and prefer free-flowing rivers.
Despite these dramatic changes, a few small Missouri River reaches retain much of their natural character. North Dakota's segment of the river from its confluence with the Yellowstone River to the headwaters of Lake Sakakawea contains many native benthic fish that have become rare, threatened, or endangered in other states. These fishes include blue sucker, sicklefin chub, sturgeon chub and flathead chub. Another species, the federally listed pallid sturgeon, is endangered in North Dakota and throughout its range.
The challenge for the North Dakota Game and Fish Department and other resource management agencies is to maintain healthy populations of these native species, and to protect and restore critical remaining habitats amid complex water control operating procedures (implemented by the US Army Corps of Engineers) at mainstem dams. These operations greatly affect water quantity and quality downriver.
River flows and turbidity below dams differ greatly from natural conditions. Because many benthic fishes are uniquely adapted to the Missouri River, their presence or absence is often a good indicator of how substantially river habitat has been altered. Declines in many species has alerted resource managers of the need to better understand factors affecting abundance, growth, and survival of benthic fishes. (For more on North Dakota's Missouri River and its fish see articles by Greg Power and Fred Ryckman in August 1993 and March 1995 issues of North Dakota Outdoors).
To evaluate how potential changes may affect Missouri River benthic fishes, a uniform, standardized sampling effort for the entire river was developed. Researchers from cooperative fishery research units and universities in states along the river from headwaters to mouth (Montana, North Dakota, South Dakota, Iowa, Kansas, and Missouri) teamed up to implement the Missouri River Benthic Fish Study, the first comprehensive fish study conducted on the remaining flowing portions of the Missouri River.
The objectives of this four-year study, initiated in 1996, are to describe and evaluate abundance, growth and reproductive success of key benthic fishes, to measure important features of their habitats and describe habitat use. Sponsors of the study are the Corps of Engineers and several other federal and state agencies, including the North Dakota Game and Fish Department, which supports part of the work within North Dakota.
In 1996, more than 25.000 fish were collected throughout the river's length (Montana to Missouri), representing 78 species or subspecies. Many more fish were sampled in 1997. In addition to information on length, weight and abundance, researchers are conducting detailed age and growth studies on 13 species. Results between different portions of the river can be compared.
Of all the Missouri River states, North Dakota may provide the best contrast between, a more natural, minimally altered river reach and a greatly altered reach. The Williston Reach, which extends from the Missouri-Yellowstone confluence to Lake Sakakawea, receives the free-flowing, turbid waters of the unimpounded Yellowstone River. This reach retains a flow regime, turbidity, and habitats similar to those found before 20th century river development. In contrast, the Garrison Reach, which extends from Garrison Dam to the Lake Oahe headwaters, has its flows regulated by Lake Sakakawea. Because water is often released from the deepest portion of the reservoir, Garrison Reach water is typically much colder and clearer than the Williston Reach in summer.
The main fish species in these two reaches are strikingly different. In 1997, 1,500 fish, representing 30 species and 11 families, were sampled in the Williston Reach. Most sampled fish (1,125 fish or 75 percent), were benthic fish targeted for the study. Flathead chubs, western silvery minnows, bigmouth buffalo and channel catfish were most commonly captured. Other native species sampled regularly in the Williston Reach in 1996 and 1997 included shovelnose sturgeon, burbot, sicklefin chub, sturgeon chub and stonecat. In addition, one pallid sturgeon was also sampled. These are some of the distinctive, benthic species early explorers would have seen had they been able to sample the river.
In contrast, 3,800 fish sampled in the Garrison Reach in 1997 represented only 22 species and nine families. About 90 percent of the catch was two species, white suckers and longnose suckers, and less than 35 percent of the catch was targeted benthic fish. Almost none of the native, benthic fishes found in the Williston Reach were found in the Garrison Reach. Results indicate that changes in discharge, sediment and other habitat aspects have caused the loss of several native benthic (and other) species in the Garrison Reach. Similar loss of native fishes is documented at several locations downriver of North Dakota where habitats are similarly altered.
This study, which continues through 1999, promises to provide information on North Dakota's portion of the river and how it compares with segments of the Missouri River upstream and downstream. By teaming up on the "Mighty Mo" on a comprehensive study over the entire river's length, researchers are taking an important step in developing a uniform, comparable basin-wide profile of native Missouri River benthic fish and their habitats.